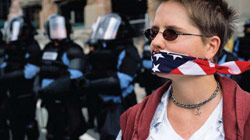 Last week as a woman in Denver drove home from the gym, her ex-boyfriend forced her off the road and shot her in the head.
According to Amber Cremeens' new boyfriend, Tyler James Martin had
"been stalking the hell out of her."
Cremeens had moved to Kansas City and then to Denver to escape him, but Martin found her each time.
After killing Cremeens, Martin fled to Illinois and fatally shot himself.
Also, last week an ex-boyfriend of
Nova Henry
was charged with her murder and that of her 9-month-old daughter. They were found shot to death Jan. 24 in their Chicago condo.
Henry had filed an order of protection against Fredrick D. Goings.
In 2007, Goings was charged with domestic battery and phone harassment of Henry. He allegedly threatened to shoot her cousin in the head.
These two women -- and many, many more just like them -- experienced daily terror, never knowing when they'd be assaulted next, never knowing when the ex-boyfriends or husbands whom they'd finally had the courage to leave would reappear.
Yet Martin and Goings will not be labeled terrorists.
Four people in California, though,
have
been branded terrorists
. Why? Because they protested against people (and the institutions that employee them) who torture animals for money.
Will Potter has a great blog post (when doesn't he?) at
Green Is the New Red
, complete with
a link to an affidavit by an FBI agent
investigating the protests at animal experimenters' homes. In the affidavit the agent focuses her attention of how their alleged acts violated the Animal Enterprise Terrorism Act.
On Sunday, October 21, 2007, a group of approximately twenty people, some wearing bandanas covering the lower portion of their faces, drove to University of California at Berkeley Professor Number One's residence in El Cerrito. Professor Number One conducts bio-medical research involving the use of animals. The group of protesters trespassed onto Professor Number One's front yard and rang his doorbell several times. The group was making a lot of noise, chanting animal rights slogans [...], using a bullhorn. Professor Number One told protesters that he was going to call the police and the group was subsequently detained by officers on site.
If this information is worth including in an affidavit to request a warrant for the four activists' arrests last week, why weren't they arrested on the day the protest occurred?
DNA testing
Another thought that went through my mind as I read the affidavit was this: Somehow taxpayer-funded law-enforcement agencies have the staff and money to analyze the DNA from bandannas allegedly used during a First Amendment-protected protest, yet agencies across this country have been complaining for decades about not having the resources to analyze evidence from rapes and murders.
Earlier this month the Los Angeles Police Department identified about
4,400 unsolved rape cases
in which the DNA evidence had not been tested. A total of 403 of those must be tested soon to avoid the statute of limitations expiring. After the statute of limitations expires, a suspect cannot be tried for the assault. Officers found 118 such files with untested evidence.
The Los Angeles County Sheriff's Department has a backlog of 800 untested DNA samples.
Consenting to a rape kit takes courage on the part of the victim. After being raped, many women want to forget it ever happened. They want to take a shower and remove the physical, mental, emotional traces of the assault. But going to a hospital and allowing a doctor to conduct an exam -- that can take hours -- and collect semen, blood, hair and skin samples are what will allow detectives to find the rapist.
"You are making a commitment to participate in the criminal justice system and provide evidence that will aid in the prosecution of your case," said Gail Abarbanel, the director of the Rape Treatment Center at the Santa Monica-UCLA Medical Center. "Not opening rape kits is just a profound betrayal of the victim's belief in the criminal justice system."
So while rape kits remain untested and rapists and murderers are free to repeat their heinous crimes, and while women are killed by jealous, controlling men, law-enforcement officials dedicate their resources to quashing freedom of speech and protecting those engaged in "animal enterprise."
(Photo courtesy of the Center for Constitutional Rights. It is not a photo from the protests mentioned in this post.)